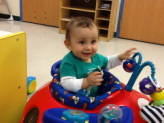 An Exceptional Place for your baby to thrive
Our Infant Program provides a caring, nurturing environment where your baby can grow from a bundle of joy to a bundle of curiosity. At our center each baby receives individualized attention and personal, loving care. We attend to your infant's every need and we listen carefully to you - the parent - so that your needs are met as well.
---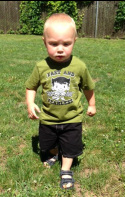 Play Time is Learning Time
Our Toddler Program uses hands-on exploration to help your child learn about his/her expanding world. Toddlers enjoy learning activities that foster independence and build self-confidence. Our classroom invites your child to grow and learn. Our goal is to spark your child's interest through language development, sensory stimulation, art, outdoor and gym time.
---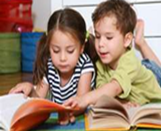 Where Curious Children Become Excited Students
The Creative Curriculum for Preschoolers encourages children to broaden their interests through self-discovery. Teacher directed activities in language, reading and math readiness skills prepare each child to enter Kindergarten ready to succeed. The children stay busy with a variety of activities throughout the day including free play, circle-time and academics.
---